About Us
Conversion:
Michael – I probably became a Christian as a child in a neighborhood Bible study, but it was not until I was fifteen years old that I gave God total control and He began to change my life. I remained in my Sunday school room after everyone had left. I was frustrated because as I read the Bible I realized that God worked amazing transformations in the lives of His people in the Scripture but I had not allowed Him to do that in my life. I prayed and challenged God to reveal His life-transforming power in my life and told Him that I would give Him total control to do that. He radically and wonderfully changed my values, my thoughts, and my very character.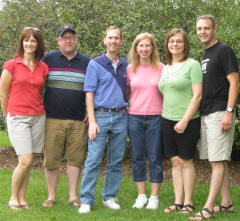 Sherri – I can't pinpoint the specific time when I became a Christian, but it was probably when I was in the sixth grade. I was raised in a Christian home and always enjoyed church, but when I was eleven I made a personal decision that Jesus Christ was going to be the Lord and Savior of my life. At that time I decided to read the New Testament for myself. Through doing that I discovered more about God's incredible love for me. It was exciting to read the Word of God for myself and not just hear about it from my parents or the pastor. Because of what I read in the Bible, I decided that I wanted Jesus Christ to be the Lord of my life. My faith became personal; it wasn't something I believed because my parents did. Since that time God has changed me immensely.
God's Leading into Missions:
Michael – In 1987 God led me to spend the summer on an evangelism team near Rome, Italy where He gave me a deep love for the Italian people and a miraculous ability to speak the Italian language. God showed me very clearly by the way He used me and changed me that summer, by the opinion of the missionaries, Italian Christians, my family and friends, and my church's leaders, and by the desperate need in Italy that He wanted me to be a missionary to Italy.
Sherri – My interest in missions began at age thirteen when I read a book about missionaries. But, as so often happens, my career plans changed several times in high school. At Duke University I became involved with Inter-Varsity and attended its Urbana missions conference where God revived my earlier interest in missions. From that point on, I often asked the Lord if He would want to use me as a missionary. When I entered seminary, I was particularly drawn towards Europe since my college majors were history and French. In 1990 Michael and I married with the goal of serving our Lord in Italy.
Michael & Sherri – After 16 years of fruitful, filling ministry in Italy, God laid a new challenge before us. Several missions leaders challenged us to put our experience to broader use. They pointed out that most missionaries never succeed in planting a church let alone several and that thousands of European leaders lack the vision to start new, vibrant, reproducing communities. The question was asked: Shouldn't you be training others?
Many months of prayer, many hard challenges faced by our family (and teenage and preteen daughters!), and more kindness and encouragement than we deserve, have brought us to conclude that the next step for our ministry entails a move to Brno, Czech Republic and a training ministry wherever God would lead.
Requests for training have already come in from Slovakia, Switzerland, Spain, the Czech Republic and, of course, Italy. There are plans to create "Mission For You" websites in multiple languages, and Michael has been asked to write a church planting manual to train others in the principles that have helped make our ministry in Italy so effective.
Why Europe?
Michael & Sherri – Europe's most drastic need right now is for missionaries who will start reproducing churches and cast a vision in others for carrying out that same task. For our first 16 years of ministry, we served in Italy where less than 1% of the people are evangelicals and only about 10% are practicing Roman Catholics, so the need is tremendous. Moving to the Czech Republic brings us into a culture where less than 2% of the people are in any sort of a church on any given Sunday and only about 0.17% are evangelicals.
Dates of Interest:
Birthdates:
Michael—October 27, 1965 (Grand Rapids, Michigan)
Sherri—November 27, 1965 (East Point, Georgia)
Rebecca—February 24, 1995 (Grand Rapids, Michigan)
Sarah—March 14, 1997 (Rome, Italy)
Elizabeth—April 11, 2001 (Rome, Italy)
Anniversary:
June 2, 1990 (Newnan, Georgia)
Ministry Milestones: See our Milestones page for more details and more milestones.
Arrival in Italy – October 11, 1996
Launch of the Mission For You site – October 2001
Launch of the Viterbo church – November 2001
(1st daughter church!)
Launch of the "True Vine" church of Montefiascone – May 2004
(2nd daughter church!)
Launch of the church of Civita Castellana – September 2007
(3rd daughter church!)
Launch of the Alatri church – October 2008

(Thanks to "Mission For You"!)

Publication of The Case for Christ – March 2009

(Won book of the year!)

Publication of Can I Begin Again? – May 2009
Launch of the Fabrica di Roma church – June 2009
(4th daughter church!)
Launch of the Bracciano church – May 2012
(5th daughter church!)
Arrival in the Czech Republic – Estimated for January 2014
Educational Background:
Michael
Masters of Divinity, Gordon-Conwell Theological Seminary (S. Hamilton, Mass.)
Bachelor of Science in Psychology, Calvin College (Grand Rapids, Michigan)
Sherri
Masters of Religious Education, Gordon-Conwell Theological Seminary (S. Hamilton, Mass.)
Bachelor of Arts in History, Duke University (Durham, North Carolina)
Bachelor of Arts in French, Duke University (Durham, North Carolina)