Church Ministry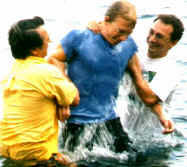 Through preaching, teaching, counseling, women's ministry, youth ministry, children's ministry, training leaders, speaking at conferences, etc., we've had a fruitful time of ministering in our Italian churches and to church leaders throughout Europe. That church ministry has changed lives as we've equipped leaders, discipled believers, and witnessed to the lost.
One example of how God is working is seen in Sandro who went from atheist to youth group leader in just one year. Though still skeptical of our faith, he began attending cell (small) group meetings where Michael taught as a frequent guest. The Spirit was working on Sandro, and we had the privilege of being present at our Christmas service in 1998 when he announced his conversion.
As a result of many prayers, personal contact of many, and his involvement in our youth group, Sandro is not only a strong, growing disciple of Christ, but he learned to lead others to Christ and to use his gifts of leadership and teaching among his peers and in the church.
Michael had the privilege of preaching as Sandro married Sara, another member of the local Youth Cell. With the help of Michael's training, he has developed into an able preacher and teacher and is the foremost Italian instigator for church planting in the Monterosi congregation. Sandro and Sara co-founded the Bracciano church and is now its lay pastor.
Sandro's is a changed life! But we also want God to change local regions in Europe through Church Multiplication (Church Planting).